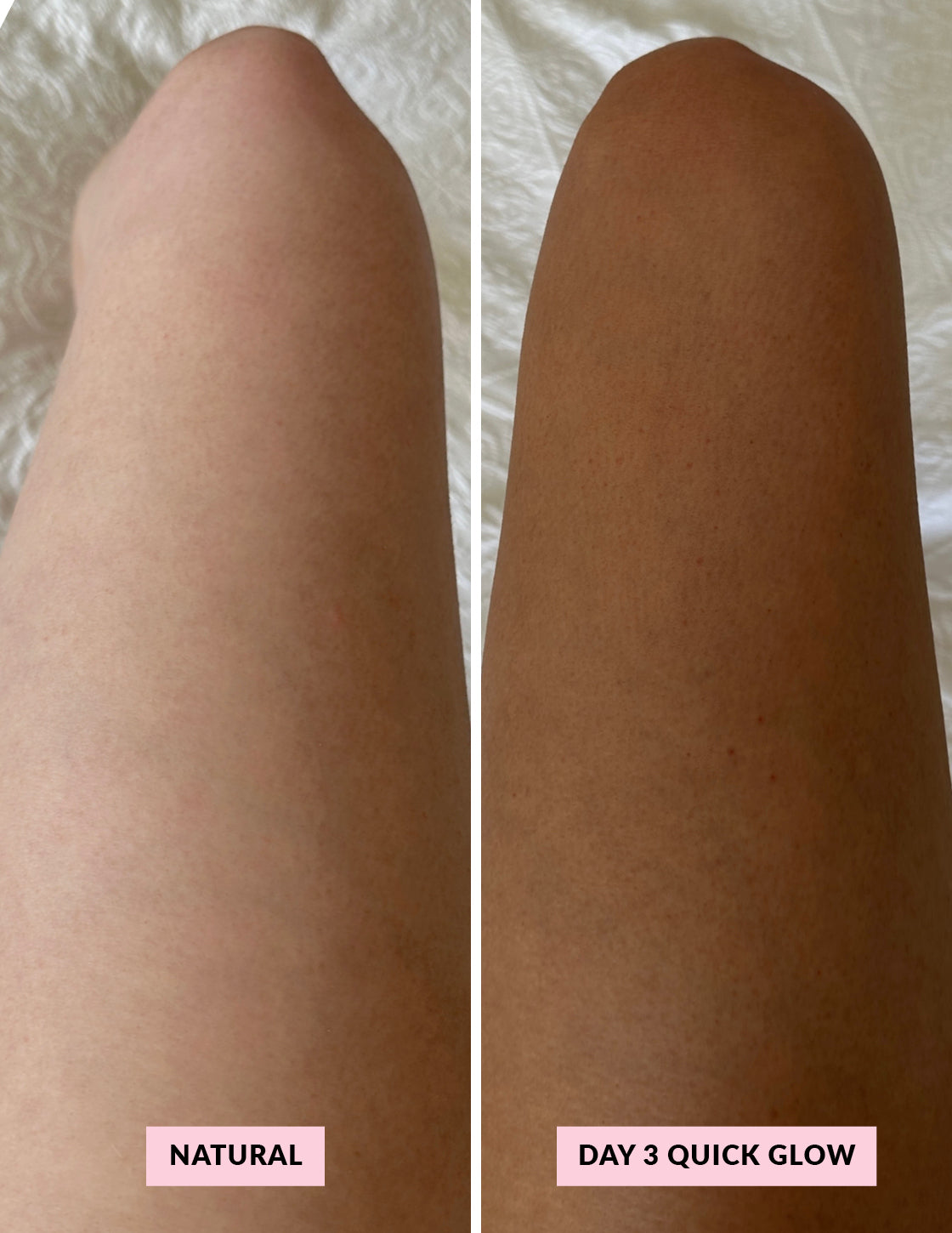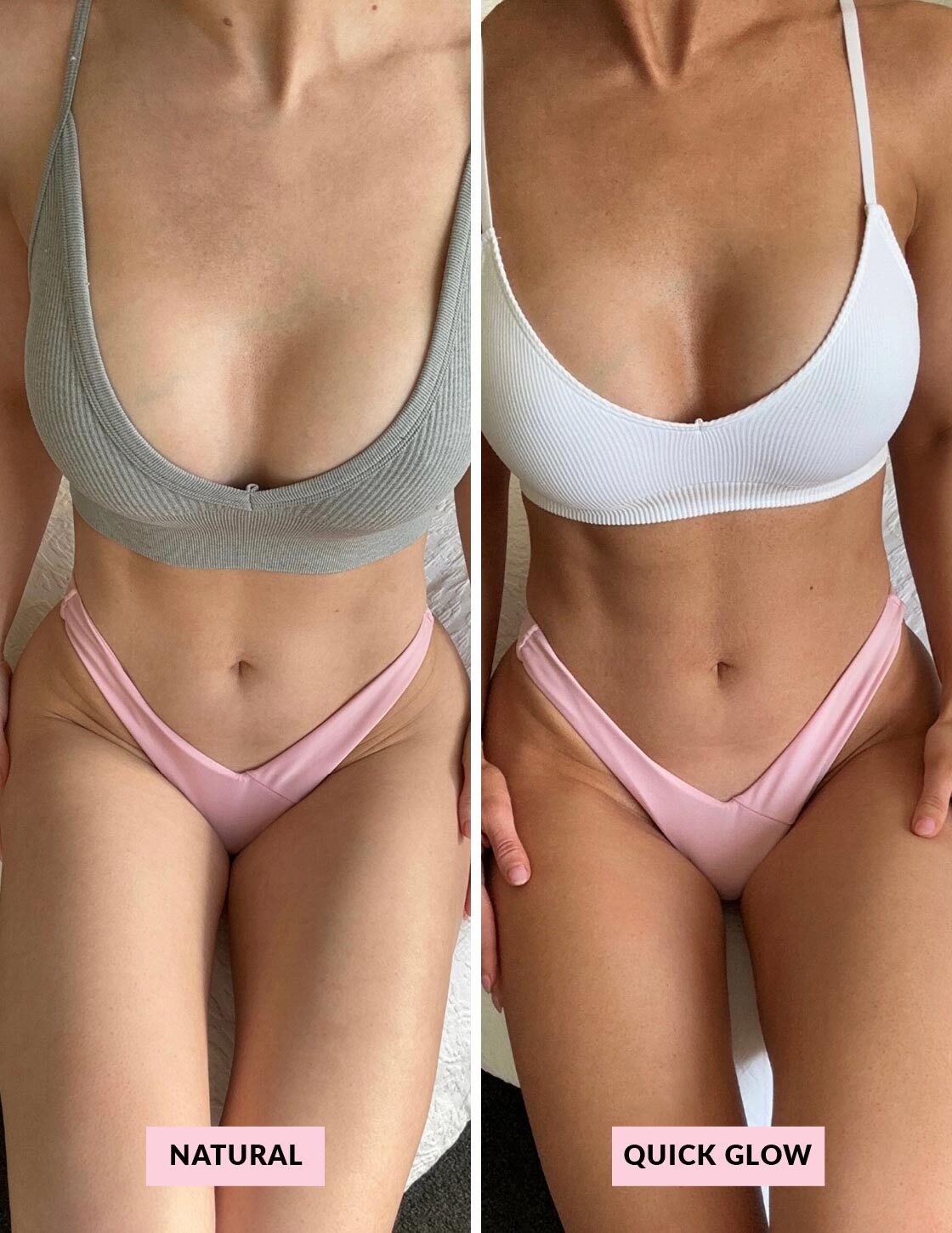 Get The Look
Get Ana's glow with the Quick Glow Gradual Tan Serum Spray and Body Mousse. Protect with the Quick Screen SPF50+ Set Finishing Spray and matching Lip Balm glaze.
100%
of reviewers would recommend this product to a friend
| | |
| --- | --- |
| Quality | |
| Staying Power | |
| Ease of Use | |
| Speed of Application | |
Reviewed by Nadia Capplis C., from Australia
Verified Buyer
I recommend this product
All Hail Saint Iris Patron Saint of Entrepreneurs & Beauty
This is the thing I've been looking for in a tan AND moisturiser.
TLDR: I am time poor, bad a tanning myself let alone moisturising, will never buy another tan again
The first time I tanned, I did it in the morning and then worked from my home office, my husband literally said "there must be something wrong with these lights, you're darker every time I come in". No mate, just good old Quick Flick doing THE BEST gradual tan moisturiser in the game.
YOU WILL LOVE:
- No stickiness,
- No smelling like a fake coconut dipped in acetone,
- No waiting for hours to soak before showering for the 400th time,
- No orange patches on clothes or bedding,
- No weird patches where you have dry skin and it soaks in darker,
- 10 minute application MAX
- Fades nice and evenly
ONLY FEEDBACK:
- it dries so quickly (and clear) that the first time I tanned I forgot where I'd applied and ended up double coating some areas so ended up a bit patchy
- does fade faster than a traditional self tan (I reapply on face, feet and hands with the serum spray in between full body tans)
| | |
| --- | --- |
| Quality | |
| Staying Power | |
| Ease of Use | |
| Speed of Application | |
Reviewed by Melissa, from Australia
Verified Reviewer
I recommend this product
Such a great product!
I used it once expecting to need to reapply before seeing results and honestly was so pleasantly surprised! The colour after even one application is great. It felt like more than enough for me. It dries down so nicely so you can put it on before bed and wake up with a lovely glowy tan. It's really quick to apply as well . Highly recommend giving it a try!
| | |
| --- | --- |
| Quality | |
| Staying Power | |
| Ease of Use | |
| Speed of Application | |
Reviewed by Jayde, from Australia
I recommend this product
I've been self tanning for 10+ years and have never seen something like THIS!!
I've been a weekly self tanner for YEARS and have tried my fair share of tanning products, but nothing prepared me for this whipped magic!
It's everything you'd want if you could create the "perfect self tanner".
Doesn't smell like "tan". Doesn't make your skin dry/itchy (thanks to added moisturiser aspect) Doesn't stain bed sheets/clothes (clear formula) AND it isn't sticky!!!.. like AT ALL!!! (literally dry almost instantly, where I can get dressed and don't need to dry off - game changer!!!)
Plus the gradual colour it builds is really nice and natural, and it's a whipped tan mousse?! Like does it really get any better?!! SO FUN!!
| | |
| --- | --- |
| Quality | |
| Staying Power | |
| Ease of Use | |
| Speed of Application | |
Reviewed by Ash cooper c., from Australia
Verified Buyer
I recommend this product
Quick easy and lasts
Great Color! Fades well, still quite smelly
| | |
| --- | --- |
| Quality | |
| Staying Power | |
| Ease of Use | |
| Speed of Application | |